Roast Pumpkin and Feta Salad is the perfect salad for your next lunch any day of the week! This salad can be consumed as a side or as a meal in itself and is super healthy yet so tasty at the same time.
Its perfect combination of flavours pair well with pizzas and barbecues.
View steps to make Roast pumpkin and Feta Salad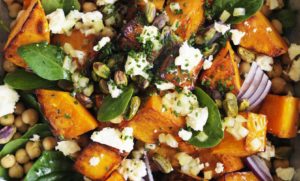 Roast pumpkin and Feta Salad Ingredients
Utensils
---
Making the Roast pumpkin and Feta Salad
Notes & Tips
Optionally sprinkle the salad with pine nuts, walnuts, chickpeas or pistachio nuts.
Roast pumpkin and feta salad is a delicious and healthy salad that is perfect for lunch or as a side dish.
It is made by roasting chunks of pumpkin until they are tender and caramelized, then tossing them with a variety of fresh greens, such as spinach, arugula, or mixed salad leaves. The salad is then topped with crumbled feta cheese and a drizzle of balsamic vinaigrette, which adds a tangy and sweet flavor to the dish.
The combination of roasted pumpkin and feta cheese creates a satisfying and savory flavor profile, while the fresh greens add a crisp and refreshing texture.
Roast pumpkin and feta salad is a great way to incorporate more vegetables into your diet, while also enjoying a delicious and satisfying meal. It is easy to make and can be customized with different greens and dressings to suit your tastes.