Thermomix Guacamole is a quick and easy to make avocado-based dip. Guacamole is made with ripe avocados and served with tortilla chips. A delicious treat to share.
This guacamole recipe made in a Thermomix is super quick and simple to make. You'll be dipping your tortilla chips in the guac in no time.
View steps to make Thermomix Guacamole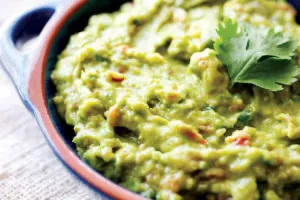 Thermomix Guacamole Ingredients
Utensils
---
Making the Thermomix Guacamole
Notes & Tips
Serve the thermomix guac with corn chips for a delicious snack to share.
Thermomix guacamole is a delicious and easy-to-make dip that is perfect for parties, game days, or as a snack.
It is made using the Thermomix, a kitchen appliance that combines chopping, blending, and cooking functions into one machine.
The guacamole is made by combining ripe avocados with fresh lime juice, garlic, cilantro, and a pinch of salt in the Thermomix bowl. The ingredients are then blended together until smooth and creamy, creating a rich and flavorful dip that is perfect for dipping chips, veggies, or as a topping for tacos or salads.
The Thermomix makes it easy to prepare guacamole quickly and without the hassle of chopping and mashing ingredients by hand. The result is a delicious and healthy dip that is sure to impress your guests and satisfy your cravings.