This mouthwatering grilled mustard chicken kebab skewers recipe is a favorite summer family BBQ meal! Mustard chicken kebabs are loved by both kids and adults at any family barbecue.
The kebabs are nice and tender and juicy with a great taste and slight kick
View steps to make Mustard Chicken Kebabs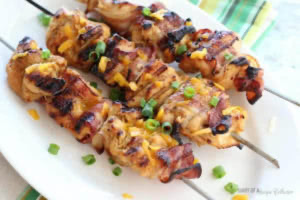 Mustard Chicken Kebabs Ingredients
---
Making the Mustard Chicken Kebabs
Notes & Tips
Optionally, serve with rice.
Tagged in Dinner Recipes Published on Posted on Add Comment