This mouthwatering grilled mustard chicken kebab skewers recipe is a favorite summer family BBQ meal! Mustard chicken kebabs are loved by both kids and adults at any family barbecue.
The kebabs are nice and tender and juicy with a great taste and slight kick
View steps to make Mustard Chicken Kebabs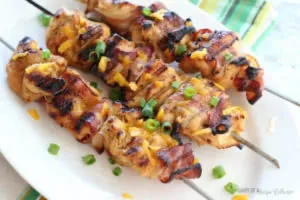 Mustard Chicken Kebabs Ingredients
---
Making the Mustard Chicken Kebabs
Notes & Tips
Optionally, serve with rice.
Mustard chicken kebabs are a delicious and flavorful dish that are perfect for any bbq.
They are made by marinating chunks of chicken in a mixture of dijon mustard, garlic, lemon juice, olive oil, and herbs for several hours or overnight. The chicken is then threaded onto skewers along with fresh vegetables such as bell peppers, onions, and mushrooms, and grilled until cooked through and lightly charred.
The tangy and savory flavor of the mustard marinade pairs perfectly with the smoky flavor of the grilled chicken and vegetables, making for a delicious and satisfying meal. Mustard chicken kebabs are a versatile dish that can be served as a main course with rice or a salad, or as an appetizer or snack for parties and gatherings.
They are also easy to customize by using different vegetables or adjusting the spice level to suit your tastes.