Enjoy chicken drumsticks in front of the big game or at the dinner table with friends or family. Satay Chicken is a great way to add a little bit of flair to your chicken drumsticks.
An easy recipe that adds a great exotic new flavour to plain old chicken drumsticks that the whole family will enjoy. This Satay recipe is simple and inexpensive to make for any occasion.
View steps to make Satay Chicken Drumsticks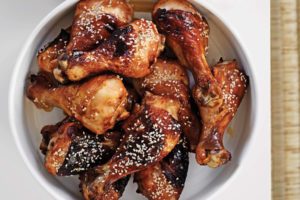 Satay Chicken Drumsticks Ingredients
Utensils
---
Making the Satay Chicken Drumsticks
Notes & Tips
Can be served hot or cold.
Optionally sprinkle sesame seeds over the top of the chicken drumsticks.
Satay chicken drumsticks are a delicious and easy-to-make dish that is perfect for a casual dinner or a backyard barbecue.
The drumsticks are marinated in a mixture of soy sauce, peanut butter, lime juice, brown sugar, and spices, giving them a rich and savory flavor. They are then grilled or baked until cooked through and lightly charred, creating a smoky and delicious flavor.
The peanut butter in the marinade gives the chicken a creamy and nutty flavor, while the lime juice adds a tangy and refreshing note.
Satay chicken drumsticks are often served with a side of peanut sauce, which is made by blending peanut butter, coconut milk, soy sauce, lime juice, and spices, and adding a drizzle of it on top of the chicken for extra flavor.
This dish is a crowd-pleaser and is sure to impress your guests with its bold and delicious flavor.