Give the Belgian-style waffles are rich decadence with this quick and cheeky chocolate peanut sauce on top of ice-cream. A perfect dessert or snack for any occasion. Waffles are always better with chocolate peanut sauce and ice-cream. Waffle heaven!
This quick and simple chocolate peanut sauce recipe is a fancy way to serve your waffles with ice-cream and is definitely the cheat way to do it.
View steps to make Waffles with Ice-cream and Chocolate Peanut Sauce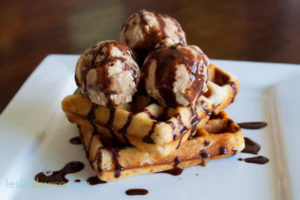 Waffles with Ice-cream and Chocolate Peanut Sauce Ingredients
Utensils
---
Making the Waffles with Ice-cream and Chocolate Peanut Sauce
Notes & Tips
The sauce can be made several hours ahead. Reheat for several seconds gently before serving.
Waffles with ice-cream and chocolate peanut sauce is a decadent and delicious dessert that is perfect for indulging your sweet tooth.
The waffles can be made using a waffle iron, creating a crispy and fluffy texture that is perfect for holding the toppings. They are then topped with a scoop of vanilla ice-cream and a drizzle of rich and creamy chocolate peanut sauce, made by melting chocolate and peanut butter together and adding a splash of cream.
The combination of warm waffles, cold ice-cream, and velvety chocolate peanut sauce creates a mouth-watering contrast of textures and flavors that is irresistible. This dessert is perfect for special occasions or for when you want to treat yourself to something sweet and satisfying.
It is also easy to customize by adding your favorite toppings, such as fresh berries or chopped nuts, to create a dessert that is uniquely yours.