The whisky sour cocktail recipe is a classic cocktail from the 19th century. The drink contains American whiskey such as bourbon, lemon juice and sugar over ice. You can optionally add a dash of egg white but due to the practicality, is often omitted from the drink.
The whisky sour cocktail is served in an old fashioned cocktail glass with half an orange slice and a maraschino cherry.
View steps to make Whisky Sour Cocktail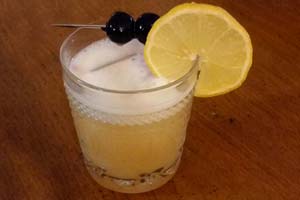 Whisky Sour Cocktail Ingredients
Utensils
---
Making the Whisky Sour Cocktail
Notes & Tips
Tip: It's easier to dissolve the sugar without the whiskey in the cocktail shaker.
Garnish with a Maraschino Cherry and a thin slice of orange.
Whisky Sour Cocktail is a classic drink that has been enjoyed for generations.
This cocktail features a mixture of whisky, lemon juice, and sugar, shaken with ice and strained into a glass.
The lemon juice adds a bright and refreshing citrus flavor that complements the bold, smoky notes of the whisky, while the sugar helps to balance out the tartness of the lemon juice.
The cocktail can be garnished with a slice of lemon or a cherry for added visual appeal.
Whisky sour cocktail is perfect for any occasion, whether you're sipping it on a cozy night in or enjoying it with friends at a party. It's a simple, classic drink that never goes out of style.