The margarita cocktail is a very common and popular drink in bars around the world. Its main ingredients consist of tequila, orange liqueur, and lime juice. You will usually see salt on the rim of the cocktail glass too.
There are a number of ways you can make a margarita. The drink is served shaken on the rocks (with ice), blended with ice as a frozen margarita, or straight up without ice. The drink is served in a margarita glass which is like a cocktail glass but is stepped in diameter.
View steps to make Margarita Cocktail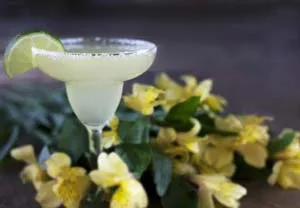 Margarita Cocktail Ingredients
Utensils
---
Making the Margarita Cocktail
The margarita cocktail is a classic drink that has become a beloved favorite around the world.
This cocktail recipe features a mixture of tequila, lime juice, and triple sec, shaken with ice and strained into a salt-rimmed glass.
The tartness of the lime juice is balanced out by the sweetness of the triple sec, creating a bright and refreshing flavor that complements the bold, earthy notes of the tequila. The salt rim on the glass enhances the flavors and provides a unique textural element to the drink.
A margarita cocktail can be served on the rocks or blended with ice to create a frozen version, making it perfect for any occasion, whether you're enjoying it with friends at a party or sipping it by the pool on a hot summer day. With its classic combination of flavors and endless variations, the margarita cocktail is a timeless favorite that always hits the spot.