The Daiquiri cocktail is a number of cocktails where the main ingredients are rum, citrus juice, and sugar or other sweetener. The daiquiri originated in the early 1900's in Cuba.
You will see many variations of the daiquiri with many different flavours such as the Margarita daiquiri. A popular form is the frozen daiquiri which is made with finely pulverised ice. You will see the frozen daiquiri at many clubs and in the party scene.
View steps to make Daiquiri Cocktail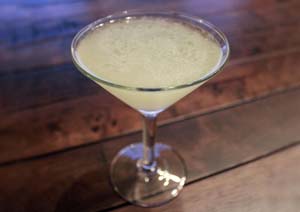 Daiquiri Cocktail Ingredients
Utensils
---
Making the Daiquiri Cocktail
Notes & Tips
You may find it to be easier replacing the cocktail shaker with a blender to mix the ingredients.
A daiquiri cocktail is a classic drink that has been enjoyed for over a century.
This cocktail recipe features a mixture of white rum, lime juice, and simple syrup, shaken with ice and strained into a chilled glass. The tartness of the lime juice is balanced by the sweetness of the sugar syrup, creating a bright and refreshing flavor that complements the crisp, clean notes of the rum.
The drink can be garnished with a slice of lime for added visual appeal.
The daiquiri cocktail is perfect for any occasion, whether you're sipping it on a warm summer evening or enjoying it with friends at a party. Its simple, classic flavors make it a timeless favorite that never goes out of style.