Is this the best classic banana bread recipe?
This has to be the perfect way to use your overripe bananas by making a loaf of delicious banana bread. It can be consumed any time of the day and is best served toasted with a smear of butter.
This classic banana bread is a treat the whole family will enjoy.
View steps to make Classic Banana Bread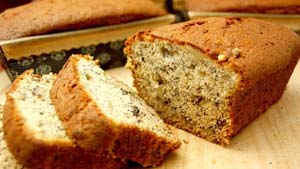 Classic Banana Bread Ingredients
Utensils
---
Making the Classic Banana Bread
Notes & Tips
When cooled, individually wrap each piece in cling-wrap for a quick on the go snack. Substitute 1/2 quantity of sugar with honey for an even tastier alternative.
Classic banana bread is a timeless baked treat that is loved by many for its delicious taste and comforting aroma.
Made with ripe mashed bananas, flour, sugar, eggs, and a few other basic ingredients, this bread is incredibly easy to make and perfect for breakfast, brunch, or as an afternoon snack. The ripe bananas not only give the bread its distinct flavor but also keep it moist and tender.
Many variations of classic banana bread exist, with some adding nuts, chocolate chips, or spices such as cinnamon or nutmeg for added texture and flavor.
Served warm with a dollop of butter or a spread of cream cheese, classic banana bread is a delightful and satisfying treat that is sure to please.