This curried salmon and rice slice recipe is a crowd favourite. The 3 layers comprising of cheese, salmon and rice make for a delicious combination.
When divided between plates, it makes for an inexpensive meal because of the low cost of tinned salmon and rice as the majority of the ingredients.
The curried salmon and rice slice goes well with a basic salad and can also be frozen as a convenient meal to whip out of the freezer for lunch or dinner.
View steps to make Curried Salmon and Rice Slice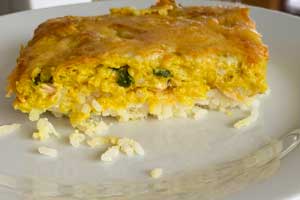 Curried Salmon and Rice Slice Ingredients
Utensils
---
Making the Curried Salmon and Rice Slice
Salmon and Rice Base
Cheesy Sauce Topping
Tagged in Dinner Recipes Published on Posted on Add Comment