This chocolate Weetbix slice is the perfect snack treat that the whole family will enjoy. It is extremely simple to make and the kids will enjoy making it with its easy steps.
Who would have thought that you can turn a plain breakfast cereal into a delicious chocolatey treat like this slice.
View steps to make Chocolate Weetbix Slice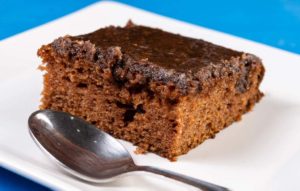 Chocolate Weetbix Slice Ingredients
Utensils
Oven

Preheat 180 degrees C
---
Making the Chocolate Weetbix Slice
Slice Base
Slice Icing
Chocolate Weetbix slice is an Australian dessert. This sweet and crunchy treat is made with Weetbix, a wheat-based breakfast cereal, combined with cocoa powder, sugar, coconut, and butter.
The slice can be cut into bars and served as a sweet snack or dessert. The chocolate and coconut flavours pair perfectly with the crunchy texture of the Weetbix, making this a satisfying and indulgent treat.
While chocolate Weetbix slice is certainly not a health food, it's a delicious and easy-to-make dessert that's perfect for satisfying your sweet tooth. Give this classic recipe a try and enjoy a taste of Australia from the comfort of your own home.