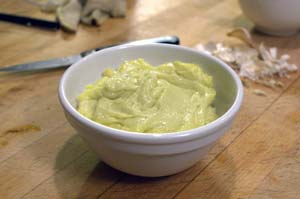 ---
Making the Aioli Sauce
Notes & Tips
Optionally add 1/2 teaspoon of mustard and 1 teaspoon of honey for a difference.
Aioli sauce is a traditional Mediterranean sauce that is made by ingredients together into a thick and creamy emulsion.
It is similar to mayonnaise in texture and taste, but with a distinct garlic flavor that makes it a popular condiment for seafood, vegetables, and meats.
Some variations of aioli may also include additional ingredients such as Dijon mustard or herbs like basil or parsley.
Aioli is often served as a dip for raw or grilled vegetables, as a sauce for sandwiches or burgers, or as a topping for seafood dishes such as fried calamari or grilled shrimp.