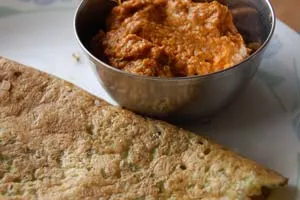 Chutney & Cheese Dip Ingredients
---
Making the Chutney & Cheese Dip
Notes & Tips
Makes approximately 1 cup of dip.
Chutney and cheese dip is a delicious and easy-to-make appetizer that combines the sweet and spicy flavors of chutney with the creamy goodness of cheese.
Chutney is a traditional Indian condiment made from a combination of fruits, spices, and vinegar, while cheese is a versatile dairy product that comes in many different varieties.
The dip is typically made by blending cream cheese or a soft cheese like Boursin with chutney until well combined. The result is a creamy and tangy dip that is perfect for spreading on crackers or bread, or as a dip for fresh vegetables.
The sweetness of the chutney is balanced by the savory flavor of the cheese, making for a well-rounded and flavorful dip that is sure to be a hit at any party or gathering.
Some variations of the dip may include additional ingredients such as chopped nuts, fresh herbs, or diced fruits for added texture and flavor.