An extremely simple and easy dip recipe for all occasions. This basil dip is a hit when entertaining friends or family. Use crackers, chips or healthy alternatives like carrots with this dip and you will be sure to please.
This classic basil dip recipe is very quick to make, fresh and tasty. The ingredients can be blended in a stick blender or Thermomix.
View steps to make Basil Dip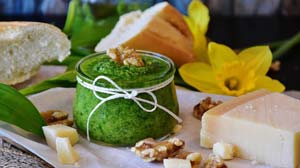 Basil Dip Ingredients
Utensils
---
Making the Basil Dip
Notes & Tips
Makes approximately 1 cup of dip.
Basil dip is a delicious and versatile dip that is perfect for serving as an appetizer or snack.
It is made from fresh basil leaves, garlic, lemon juice, olive oil, and creamy ingredients like sour cream, cream cheese or Greek yogurt.
The dip is typically made by blending the ingredients together in a food processor or blender until a smooth and creamy texture is achieved. The result is a flavorful and aromatic dip with a bright green color and a refreshing taste that is perfect for pairing with crackers, bread, or raw vegetables.
The flavor of basil is the star of the show in this dip, and it pairs well with a wide range of foods.
Some variations of basil dip may include additional ingredients like pine nuts, or sun-dried tomatoes for added texture and flavor. Whether served as a dip for a party or as a spread for sandwiches or wraps, basil dip is a delicious and easy-to-make option that is sure to please any crowd.