An extremely simple and easy dip recipe for all occasions. This basil dip is a hit when entertaining friends or family. Use crackers, chips or healthy alternatives like carrots with this dip and you will be sure to please.
This classic basil dip recipe is very quick to make, fresh and tasty. The ingredients can be blended in a stick blender or Thermomix.
View steps to make Basil Dip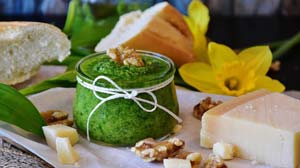 Basil Dip Ingredients
Utensils
---
Making the Basil Dip
Notes & Tips
Makes approximately 1 cup of dip.
Tagged in Snack Recipes In the following cuisines Italian Recipes Published on Posted on Add Comment