This is a simple taco recipe that keeps things basic and easy to make whilst being super healthy. It has several veggies in it to ensure you are eating a healthy meal whilst remaining incredibly tasty to eat.
Tacos are a versatile dinner idea with ingredients that can be swapped in and out to your liking.
View steps to make Simple Healthy Bean Tacos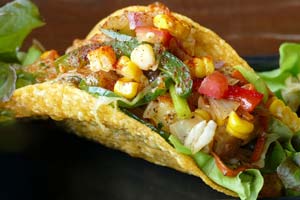 Simple Healthy Bean Tacos Ingredients
Utensils
---
Making the Simple Healthy Bean Tacos
Preparation
Make Tacos
Notes & Tips
The quantities of each ingredient will vary. Try and cut up just enough of each ingredient to evenly fill all taco shells so there is no left over ingredients.
Most ingredients will be sliced into 1-2cm pieces so you can fit them into the taco.
You can substitute beans for beef mince if you would prefer beef instead of beans. Or why not use both?
The order in which you make tacos is a matter of everyone's own opinion so there is no wrong way to order the ingredients.
Simple Healthy Bean Tacos are a delicious and nutritious meal that can be prepared quickly and easily. Top the tacos with your favourite toppings, such as diced tomatoes, shredded lettuce, sliced avocado, and a squeeze of lime juice. For a little extra flavour, you can also add some chopped cilantro and a sprinkle of chilli powder.
These tacos are a great source of protein, fibre, and healthy carbohydrates, making them a filling and satisfying meal that's also good for you. Plus, they're vegetarian and vegan-friendly, making them a great option for anyone looking for a meatless meal. Give these simple healthy bean tacos a try and enjoy a tasty and nutritious meal!