This pumpkin and mushroom risotto recipe is a very simple and easy to make dinner recipe that the whole family will enjoy. This is a recipe that will suit vegetarians and can also be made vegan with little effort.
With 4 vegetables (pumpkin, onion, mushroom and baby spinach leaves), this is not only healthy but tastes really good with the creamy texture of the Arborio short grain rice and the Parmesan cheese.
View steps to make Pumpkin and Mushroom Risotto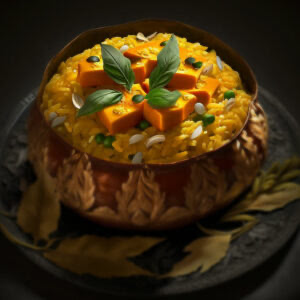 Pumpkin and Mushroom Risotto Ingredients
Utensils
---
Making the Pumpkin and Mushroom Risotto
Preparation
Cook the Pumpkin
Cooking the Risotto
Notes & Tips
Make the rest of the Risotto while you wait for the pumpkin to cook.
Let the Risotto sit for 5 or 10 minutes before serving.
Can be frozen for an easy meal later on
Pumpkin and Mushroom Risotto is a comforting and flavorful dish that is perfect for when the weather is starting to cool. This risotto features tender Arborio rice cooked in a rich broth and flavored with savory mushrooms and sweet pumpkin. It is a dish that is sure to impress and satisfy any crowd.
This meal is a rich and creamy risotto that is filled with the flavors of fall. The combination of pumpkin and mushroom is both savory and sweet, and the creaminess of the rice and cheese make this dish comforting and satisfying. Pumpkin and Mushroom Risotto is a great choice for a dinner party or a cozy night in, and it is sure to please even the pickiest of eaters.