Unlock the secrets of an authentic pizza experience with our pizza dough recipe. This step-by-step guide will help you achieve a crispy yet chewy crust that forms the foundation of every great pizza.
View steps to make Pizza Dough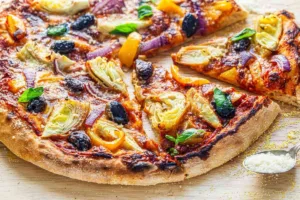 Pizza Dough Ingredients
Utensils
---
Making the Pizza Dough
Notes & Tips
Notes:
Preparation time: includes Thermomix processing time
Cooking time: approximately 15-20 minutes (depends on your pizza toppings and oven temperature)
Number of servings: makes enough dough for 2 large pizzas or 4 small/individual pizzas
Tips:
Refrigerate the dough.
Do not let it over rise.
If you're using the dough on a later date, wrap it in plastic and place it in the freezer.  Make sure to refresh the dough next day by kneading it again for 30 seconds.
Suggested toppings:
Pizza Bianca: Using olive oil as a base, add rock salt (to taste), oregano, rosemary and basil
Pizza Margarita: Top pizza dough with tomato sauce, thinly sliced tomatoes, thinly sliced cheese and fresh basil
Whether you're a novice or a seasoned home chef, our pizza dough recipe promises a taste of Italy in every bite. Elevate your pizza game and savor the delicious results!