Indulge your taste buds in the rich and aromatic experience of Red Thai Chicken Curry, a beloved dish that traces its roots back to the vibrant culinary landscape of Thailand. This delectable recipe features succulent chicken cooked in a fragrant blend of red curry paste, coconut milk, and an array of exotic spices, creating a symphony of flavors that will transport you to the streets of Bangkok.
Red Thai Chicken Curry has become a global favorite for its perfect balance of heat, sweetness, and creaminess. The dish showcases the artful combination of traditional Thai ingredients, resulting in a mouthwatering culinary masterpiece that promises to elevate your home-cooking game.
View steps to make Red Thai Chicken Curry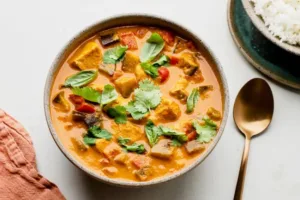 Red Thai Chicken Curry Ingredients
Utensils
---
Making the Red Thai Chicken Curry
Prepare Ingredients
Cook and Serve
Notes & Tips
Notes:
Adjust the level of red Thai chili paste according to your spice preference.
Adjust the consistency of the curry by adding more coconut milk if needed.
The cooking time may vary based on the size and power of your Thermomix, so adjust accordingly.
Make your own Red Thai Chili Paste using this recipe.
Whether you're a seasoned chef or a kitchen novice, this recipe is designed to be approachable yet impressive. Immerse yourself in the world of Thai cuisine and bring the authentic taste of Red Thai Chicken Curry to your dining table. It's a culinary journey you won't want to miss!