Traditionally associated with Good Friday and Easter, hot cross buns are a delightful and symbolic treat enjoyed worldwide. Originating in England, these spiced, sweet buns have a history dating back centuries, blending religious significance with culinary craftsmanship.
Typically marked with a distinctive cross, either in icing or dough, hot cross buns boast a unique blend of flavors from currants or raisins, cinnamon, and nutmeg.
View steps to make Hot Cross Buns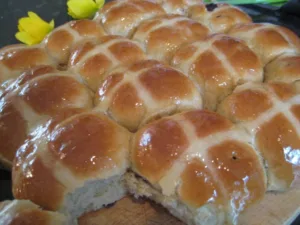 Hot Cross Buns Ingredients
Utensils
---
Making the Hot Cross Buns
Buns
Piping Mixture
Sugar Syrup
This cherished recipe has transcended cultural boundaries, becoming a beloved year-round indulgence. The process of making hot cross buns involves a carefully orchestrated dance of ingredients like flour, sugar, butter, milk, and spices, resulting in a soft, aromatic dough. After baking to golden perfection, a sweet glaze adds a final touch of luster.
Whether toasted and buttered or enjoyed fresh from the oven, hot cross buns continue to bring people together, merging tradition with the simple joy of a delectable pastry. Explore the time-honored ritual of baking and savoring hot cross buns, a timeless link to the past and a celebration of shared moments around the table.