This has got to be one of the best and easiest muesli smoothie recipe. It has only 4 ingredients so it is quick and easy for busy people who want a smoothie for breakfast or any time quickly!
Use this recipe as a base to add more of your favorite ingredients like berries and dates or keep it simple to enjoy the delicious taste of frozen banana and yoghurt mixed into this muesli smoothie.
View steps to make Muesli Smoothie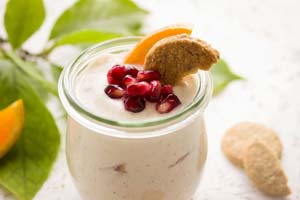 Muesli Smoothie Ingredients
Utensils
---
Making the Muesli Smoothie
Notes & Tips
Top the smoothie with fruits, oat biscuits or nuts or serve on its own.
Add some ice if you would like it cooler.
This is a perfect smoothie recipe that works well in a Nutri Ninja, Nutribullet or equivalent stick blender.
Muesli smoothie is a healthy and filling breakfast option that combines the goodness of muesli with the refreshing and nutritious benefits of a smoothie.
Muesli is a traditional Swiss breakfast dish that typically consists of rolled oats, nuts, seeds, and dried fruits. When combined with fruits and yogurt or milk, muesli can create a satisfying and nourishing smoothie.
The smoothie is typically made by blending muesli with yogurt or milk, fresh or frozen fruits, and a sweetener such as honey or maple syrup until smooth and creamy. The result is a delicious and nutrient-rich smoothie that is perfect for a quick breakfast or post-workout snack.
Muesli smoothie is a great way to start your day as it provides a good source of fiber, protein, and healthy fats that can help keep you full and energized throughout the day.
Some variations of muesli smoothie may include additional ingredients like spinach or kale for added nutrients, or protein powder for an extra boost of protein. Whether you are looking for a quick and easy breakfast option or a healthy snack, muesli smoothie is a delicious and nutritious choice.